The Thought Process Behind My Blog's New Name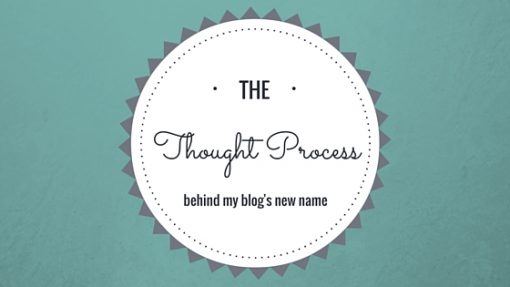 Hello, there.
What do you think of my new blog?
As you have probably noticed, it's been renamed!
I began to think about renaming my blog last year, when we knew we wanted to start traveling.
I came up with the name "These Roads I Wander."
I loved the nostalgic quality of the name, and thought it was a lovely name for a travel-blog.
But after thinking philosophically about the symbolism, I decided "wander" sounded a little too aimless. (I know. I'm way too deep.)
I made a mental note that it sounded like a splendid book title, however, and decided that maybe I'd write an autobiography someday with that name. 😀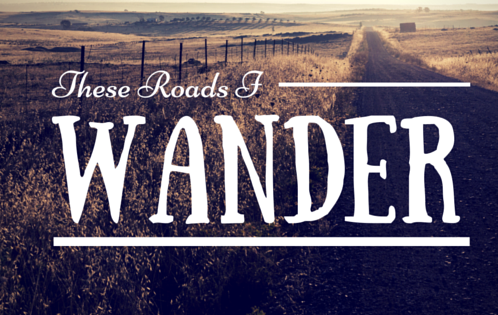 I switched over to "As I Wonder," because the word wonder has a ton of great meanings, including feeling curious, having doubts, and being in complete awe.
As I went to bed, I was certain that I had settled on that name, but when I woke up, I didn't like it as much.
So I went back to the drawing-board.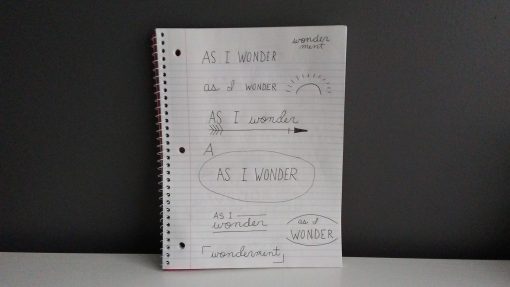 I thought maybe I'd call it "Ellie UnBoxed," since I want my blog to be a place for all my craziness.
I talked to Dad about the logo, and my indecisiveness.
He said too much debating will bring you to a standstill and recommended I just try something, and change it if I didn't like it after working on the logo for a while.
He showed me what to do in Illustrator, and I headed back upstairs.
I brought the name "Ellie UnBoxed" to my go-to person, Mom, and she liked it, but pointed out that since I want my blog to be encouraging to others and not just about me, perhaps I shouldn't have my name in the title.
I had felt "so-so" about the name to begin with, so I wholeheartedly agreed with her.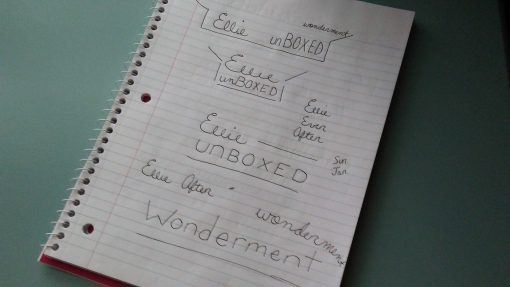 In the end, I circled around and came back to wonder. (Not wander – wonder. I must have a thing for homonyms.)
I played around with sounds for a couple minutes and created "wonderment," which, after looking it up the dictionary, turned out to be a real word.
At first, I was iffy. But I started to grow attached to it. It was bubbly, cute, and memorable.
I went to Mom (I love getting a second opinion) and asked her, "What about the word 'wonderment' for my blog?"
She was immediately in raptures.
That settled it.
I set to work hand-lettering a logo and looked at Pinterest for ideas.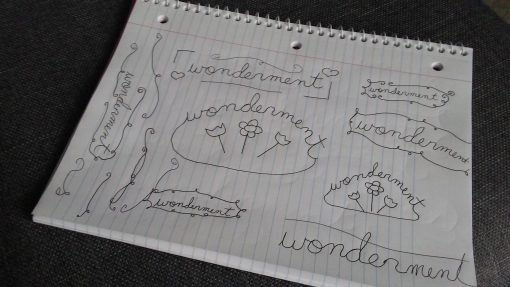 I used some mixed media paper and a black gel pen and came up with what is now my newly-named blog's logo.
Wonderment.
Here's my definition of wonderment: A state of excitement, astonishment, curiosity, and complete awe.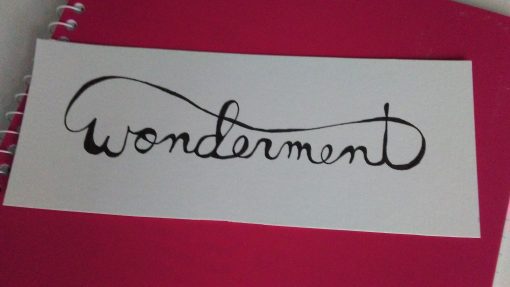 I scanned it into the computer and dropped it into Illustrator.
After a few clicks, it was ready to export.
It turned out beautifully. ⇓

So there you have it.
Long story short, my thought process is a very scary (and scattered) place to be.
Short story long, I love the name wonderment so much and am glad that God let it flit across my spasmodic brain.
Wait a minute… I should have named my blog "Spasmodic!"
Oh, well.
Thanks for reading,
Ellie 😉