More To A Girl Than A Mirror – A Song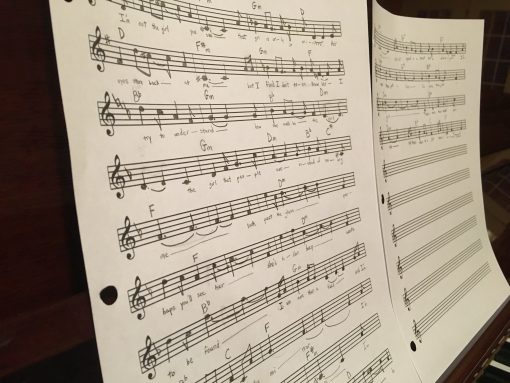 Hello!
How are you?
I wrote a song this week that I would absolutely love to share with you. It's called "More To A Girl Than A Mirror" or "Mirrors," depending on if you want a mouthful or not.
This song was one of my first attempts at a broadway-type song, with wacky chords and a wide melody range.
I had a ton of fun writing it, and even made a lead sheet (it's the photo on top).
I hope you enjoy listening to it – I definitely enjoyed making it!
Lyrics:
I'm not the girl you see – that girl is only in mirrors.
Her eyes stare back at me, but I find I don't even know her.
I try to understand how she could be the girl, the girl that people see instead of seeing me.
Look past the glass, perhaps you'll see her.
She's hidden deep, wants to be found.
I am more than a face, and I'm more than the girl in the mirror.
I'm more than who you see; I'm more than a girl in a mirror.
The person who is me cannot speak in a shout but a whisper.
I'm more than just a face; I'm more than just a girl.
There's more than what you see, and there's more to a girl than a mirror.
---
I'd love to hear your thoughts!
(If you liked this, you'll definitely like Micah's rendition of "Irish Washwoman" on the mandolin! Head over to his blog and check it out.