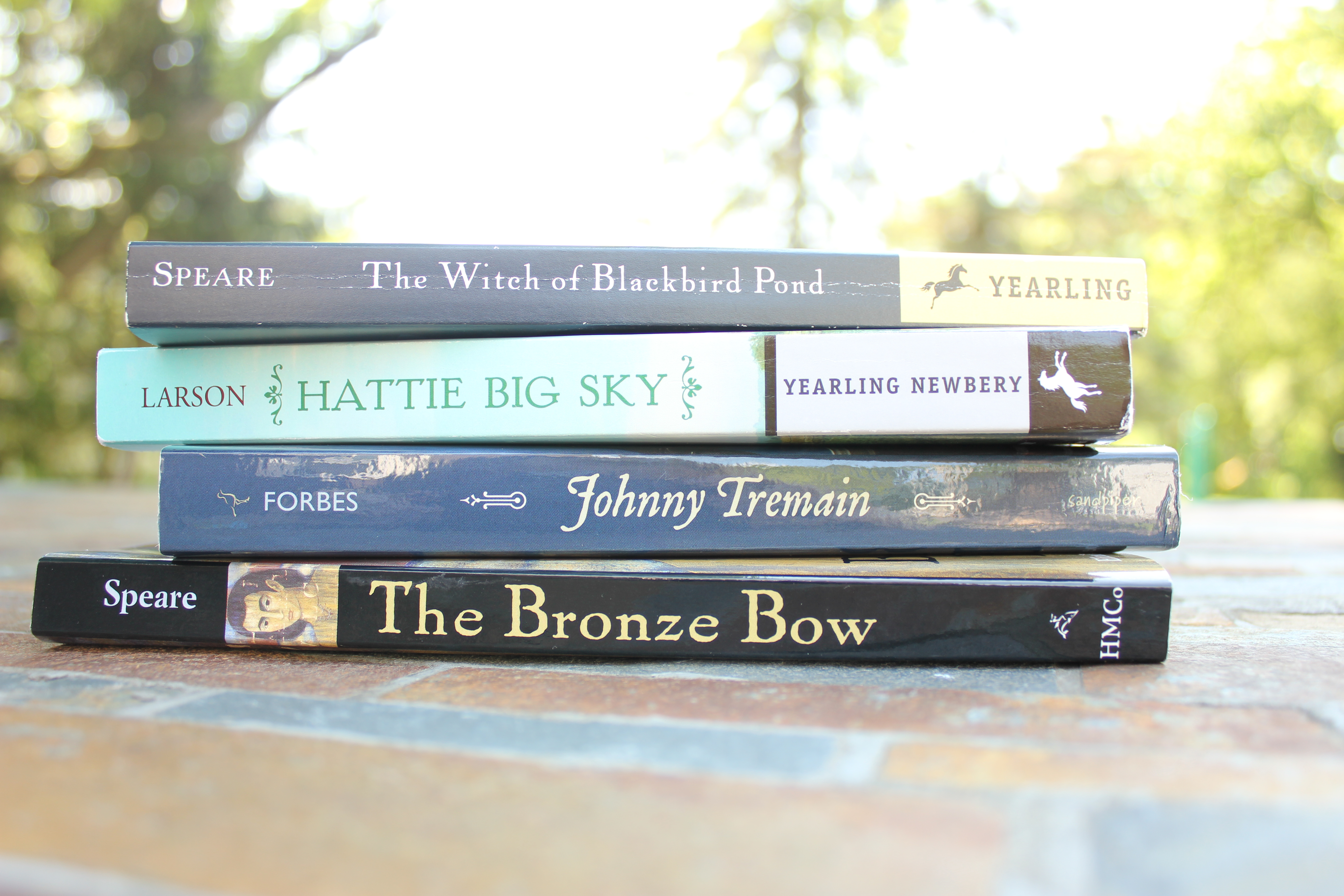 There are books. And then there are books. This post is about books. I mean really, really good books. In fact, I believe these four books are pretty much my favorites of all time. Ever. So here they are.
1. The Bronze Bow*
Elizabeth George Speare
Set in Jerusalem during the time of Christ, the book relates a vivid tale of bitter young man's life. Daniel, a Galilean whose hatred for the Romans far exceeds his love for anything else, must learn that forgiveness holds more power than revenge.
*Newbery Medal Winner
2. Johnny Tremain*
Esther Forbes
Johnny, the proud apprentice of a silver-smith, watches his world shatter around him when his hand is burned with molten silver, never to be used again. Set during the American Revolution, Johnny must determine who his friends are and on which side he stands.
*Newbery Metal Winner
3. Hattie Big-Sky*
Kirby Larson
Hattie journeys to Montana to prove up her late uncle's homestead claim and start a new life for herself. There she discovers what war really does to people, as she watches neighbors turn against neighbors, and helps her friends the Muellers battle through discrimination. Full of humor, friendship and sadness, the book tells the story of a spirited girl, her loyalty, and her dreams.
* Newbery Honor Winner
4. The Witch of Blackbird Pond*
Elizabeth George Speare
Kit comes to America to live with relatives after her grandfather dies, where she struggles to keep the rules in a Puritan society. There she must protect old Hannah, whom people call a witch, teach Prudence, whose overbearing mother will not send her to school, and decide whom she loves.
* Newbery Metal Winner

Read on,
Ellie 😉
Looking for more great books? Check out some of my other posts:
A Brilliant Series That Will Have You Howling For More