A Jaw-Dropping Novel You Should Know About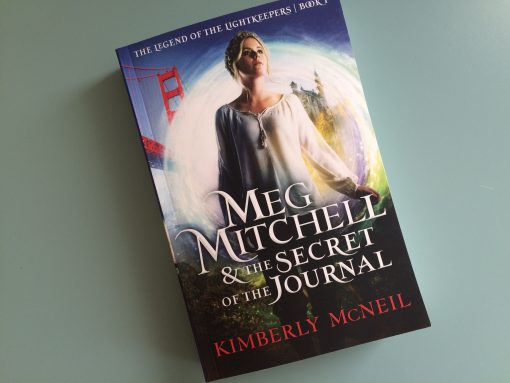 Hey, All!
I recently finished reading a novel that knocked my socks off.
It was gripping, tense, sweet, suspenseful, full of vibrant characters, and completely and utterly action-packed.
The fantabulous news? It's book one – in a series!!
Here's a little summary of the book, without giving too much away.
---
The Legend of the Lightkeepers | Book 1
What genre is it?
Meg Mitchell & the Secret of the Journal is Amy's first Young Adult novel, a brilliant mix of fantasy, sci-fi, and action.
Who wrote it?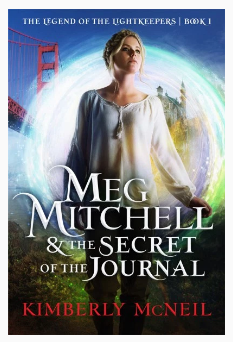 Amy Williams, under the pen name of Kimberly McNeil.
"Why does she have a pen name?" See her blog post about it here.
Amy is an amazing lady who recently started her own publishing company. She's an extensive writer, blogger, and all-out Christian. You can check out her prodigious blog or see what other books she's written.
What's It About?
"Stories never end. They just get bigger. You only have to turn the page."
This is the very essence of the book, and one of the main reasons I'm such an adoring fan.
Amy identifies every choice we make as part of a story that is continually broadening – a story that allows us the choice of being a part of it, or walking away.
Here's a summary of the novel in Amy's own words:
"Meg Mitchell lives in a castle, but she's no wilting princess. Raised in an alien world by adoptive parents, she spends her time fighting Centaurs, training as an Andai warrior, and chilling in her favorite willow tree.
But when Meg uncovers her birth father's journal, she discovers a cousin she didn't know existed. Meg and her little brother and sister travel through an interdimensional rip to San Francisco to search for their cousin, setting off a chain of events no one could have foreseen.
When her sister is kidnapped, Meg enlists the help of teenage detective Barb Taylor and her genius little brother Jim. Following clues dropped by a mysterious benefactor, they embark on a cross-country adventure to rescue her sister and find Meg's cousin.
Family is everything to Meg, but not all is as it seems. In her quest to reunite her family, she may lose more than she ever imagined."
Who should read it?
Fifteen-year-olds. Twenty-year-olds. Forty-seven-and-a-half-year-olds. If you're older than twelve, you should be reading this book right now. (Why are you still here?!)
I was grateful to Amy for not shying away from true-to-life issues in her book. First of all, this made her book believable, and second, it added lots of suspense!
Instead of trying to skip over these issues, she used them to display the brokenness of humanity and create tenable characters.
Some of the content is heavy (which isn't surprising, because life is heavy), but Amy did a good job of utilizing balance.
What did you most admire about this book?
Amy did a stellar job of vividly describing chase scenes and fight scenes without it becoming repetitive or mundane.
I loved that even in the thick of the danger, she lightened the mood with comical humor and banter.
Her characters were so lovable! (Seriously – I think I'm in love.) They were goofy, imperfect, and absolutely endearing. 😀
Should I read this book?
To this question I give a resounding and emphatic YES! On my radar, this book ranks second under The Count of Monte Cristo alone.
(Besides, what kind of a question is that? It's like asking if you should like ice cream!)
---
Have you read this book? I'm dying to talk about it with you! 
Still stunned,
Ellie 🙂
P.S. You can take a peek of the novel on Amazon.